Hydraulic Hose Repair in Dallas, TX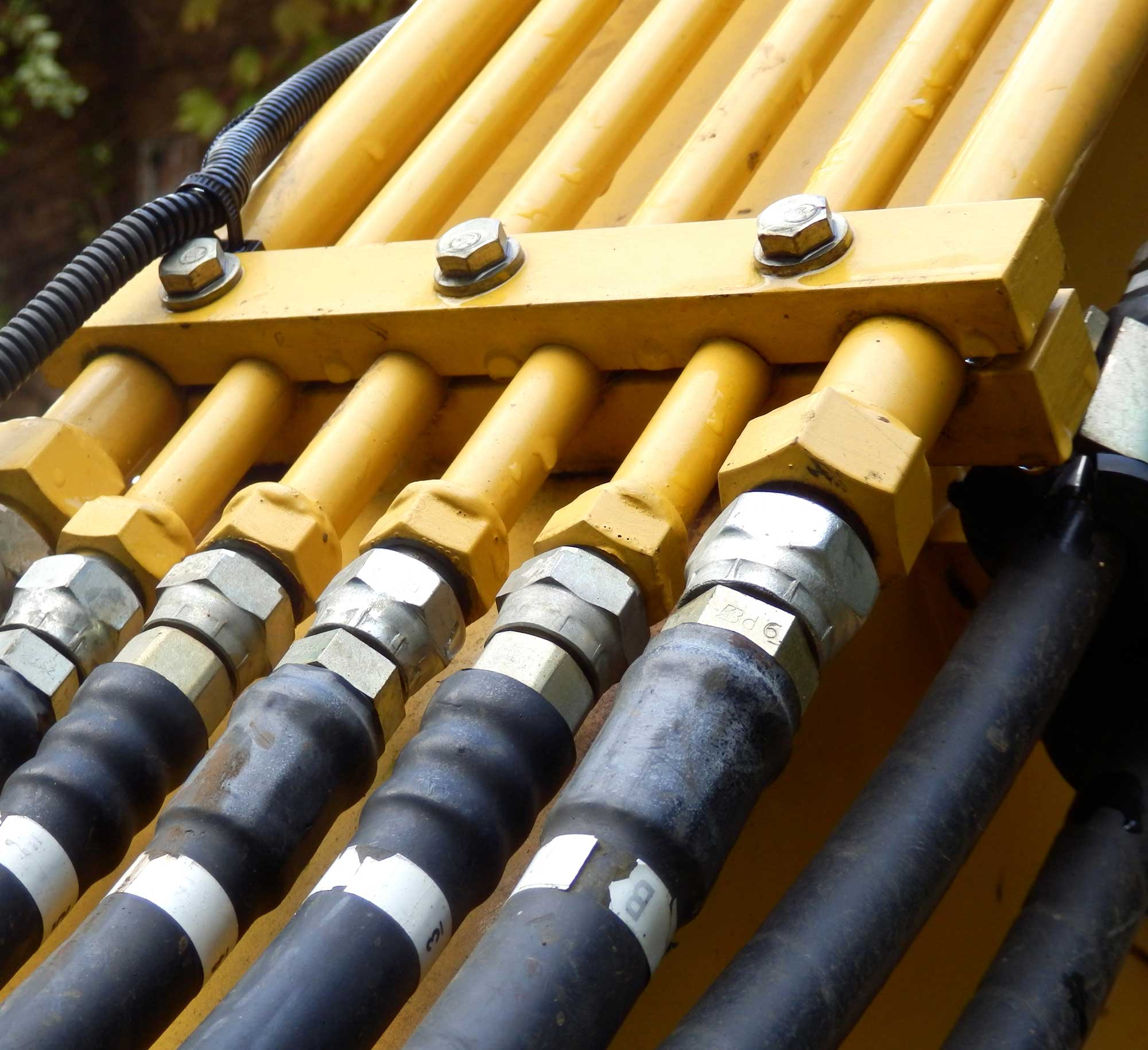 Dallas Hydraulic Hose Repair Specialists
JM Fluid Power can help you can reduce downtime and operating costs with professional hydraulic hose repair Dallas, TX. When your hydraulic equipment breaks, you have just one goal: to get back up and running as soon as possible so business can continue. JM Fluid Power brings more than a decade of expertise to hydraulic hose repair in Dallas, TX to get you back on the job as quickly as possible.
Hydraulic Hoses: Repair or Replace?
When a hydraulic hose breaks, it can bring your entire project to a grinding halt and stand in between you and a completed job. When this happens, the first question on your mind is usually, "Do I need to repair or replace my hydraulic hose?"
As a leader in hydraulic hose repair in Dallas, TX, we get this question a lot. It's important to understand the difference between a hydraulic hose repair vs. a replacement to keep your equipment in good working condition.
Hydraulic Hose Repair in Dallas, TX 
In some cases, you can opt for a quicker and less expensive hydraulic hose replacement when only the fitting has sustained damaged. A cracked fitting may easily be mended using a hose repair kit as long as the hose itself is intact. 
Changing a hydraulic fitting requires the skilled hands of a professional. Our hydraulic hose repair in Dallas, TX can provide speedy fitting replacements for your hydraulic hoses. We have a good inventory of OEM fittings and parts in stock to save you time, and if we don't have what you need, we can usually get it within the next business day. 
Hydraulic Hose Replacement in Dallas, TX 
When a hydraulic hose breaks or has visible signs of damage or wear and tear, it usually needs to be replaced. Some signs to look for include but are not limited to:
 Holes, Cuts, or Tears
 If any part of the hose is punctured, cracked, or torn, it will need to be replaced.
 Worn-Out Hoses
 Discoloration, fraying, stretching, loss of flexibility, or signs of strain can indicate it's time to replace the hose.
 Old Age
 For older sections of hoses, it's usually better to have them replaced. Older hoses have been subjected to serious pressure over time. Check the manufacturer's suggested life span for the hose and replace it before it reaches its intended life span.
 Improper Care
 Like the rest of your equipment, hydraulic hoses need to be properly cleaned, flushed, and maintained. Hoses that aren't properly cleaned before installation can wear out faster.
 Our In-House Hydraulic Hose Repair Service in Dallas, TX
 If you need a hydraulic hose repair in Dallas, TX, JM Fluid Power is ready to serve you. We built our business on more than ten years of experience with hydraulic equipment that allows us to diagnose issues and recommend the best path forward.
 All of our hydraulic hose repair and replacement services are performed in-house at our location near Dallas, TX. We carry an extensive range of hydraulic hoses and fittings that allow us to serve you faster. Our team is skilled in performing troubleshooting for all of your hydraulic systems, as well as providing routine maintenance to keep your equipment looking and functioning like new. 
Hydraulic Hose Maintenance
 Replacing a hydraulic hose before it breaks can help you avoid surprise downtime and other damage to your equipment. This is considered part of a preventative maintenance strategy and should not go overlooked. In addition, hydraulic hose failures can be dangerous to people and property alike. Sudden failure of a hydraulic hose could send fittings flying, high-speed fluid discharge, or potential contacts with fluids that may be hot or toxic.
 Once we've replaced or repaired your hydraulic hose, it's essential to prioritize maintenance to prevent future issues and extend the life of your hose.
 Document the Hydraulic Hose Repair or Replacement
 Every time you receive a hydraulic hose repair in Dallas, TX, we recommend making a note of it in your equipment maintenance software or spreadsheet. It is good to include the date, the work performed, the reason for the repair or replacement, and the company who performed the work (like JM Fluid Power).
 It's also a good idea to log the manufacturer's recommended hose life and any warranty information. We can provide you with this information at the time of service.
 Conduct Regular Visual Inspections 
We recommend conducting visual inspections of your hydraulic hoses every three months or every 400-600 hours of equipment use, whichever comes first. This helps to minimize the gaps between inspections so you can catch issues early before they become more significant problems. 
In addition to signs of wear or damage, you'll want to look for: 
Tight bends
Twisted hoses
Kinks or knots
Not enough slack
Hoses that are close to high temperatures
Hoses that rub against other objects (especially metal parts)
Plan for Hose Replacement During Equipment Downtime 
When hoses start showing signs of wear or damage, get a professional's opinion as to whether it might be time to replace the hose. If you've documented the hose's repair or replacement history, use this timeline to help inform your decision. Ideally, you can plan for hydraulic hose repair or replacement during scheduled downtime so that it does not affect any ongoing jobs. 
Why JM Fluid Power for Hydraulic Hose Repair? 
Our entire business is built around hydraulics and the parts and equipment manufacturers that allow us to serve you. We track down hard-to-find parts directly from manufacturers and dealers so that you never have to compromise on quality. 
Before we start on your hydraulic hose repair in Dallas, TX, we provide a free quote for services, so you know what you're paying upfront. We believe in fair, transparent pricing so that you can get your hydraulic hose repaired or replaced and get back to work as soon as possible.
 Get in Touch! 
Got a broken hydraulic hose in need of repair or replacement? Choose JM Fluid Power for speedy, reliable hydraulic hose repair in Dallas, TX — contact us today for a service quote!
Ready to Get Started?
We are committed to offering a quality repair or replacement with OEM parts from the dealer or component manufacturer.
Our Office Location
3105 Lomita Dr. Ste. 103A
Lancaster, TX 75146
Contact
Get In Touch
Have questions or want more information?  Send us a message.
Testimonials
What Our Customers Say
"Very knowledgeable and quick turnaround time. Need a hydraulic hose immediately and they had everything in stock."
"We work with hydraulic cylinders and we send our work to this place. Really nice guy, very knowledgeable too. They once delivered to our shop when we were short staff and needed the cylinder back for production. Gotta check it out."
"Looking for Hydraulic repairs at the best price! This is the place. Stop going through the middle man and come straight to the source. Not only does this place have great prices, warranty on their work, best turnaround times, and quality work guaranteed. This place also sells hydraulic oil, hoses, and fittings. Come check this place out!!!"
"My friend's dad owns a shop and gets his oil, and hoses and fitting from this place. It is the best reasonable price found so far. Highly recommend this place to anyone in the construction industry."